Dear Parishioners,
I'm able to compose this letter on Wednesday afternoon because we just got our electric power back after a tropical storm during a pandemic! It's been challenging hasn't it? I was sorry to see the harm done to trees and property around the Village. This was not the kind of distraction from the pandemic that we were looking for!
Feast of the Assumption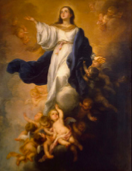 Saturday, Aug. 15th is the Feast of the Assumption of the Blessed Virgin Mary. This feast day is NOT a holyday of obligation this year for two reasons: 1) the Bishop has dispensed the obligation to attend Mass on all Sundays and holy days of obligation due to the pandemic; 2) in the U.S. when the Assumption occurs on a Saturday, the obligation is always dispensed.
However, even without the obligation, parishioners may want to attend Mass to celebrate the Blessed Mother's Assumption into heaven. So, we will have three Masses for the Assumption – the Vigil Mass at 5 pm on Friday, Aug. 14th and Saturday, Aug. 15th at 8:30 am and 12 noon. The evening Masses on Saturday will be Vigil Masses for the 20th Sunday in Ordinary Time.
Re-Opening Updates
Please know that extensive conversations and planning are taking place regarding the re-opening in the Fall.
Our principal, Mrs. Augello, in consultation with the State of New York, the Diocese of Rockville Center and Perotta Consulting, has composed a "Plan for Re-Opening." The plan calls for in-school classes for all students five days a week. Further details about health protocols will be made available shortly.
Likewise, I have been in conversation with Mrs. Christine Fuchs regarding our Faith Formation Program. Much of our plan will depend on what decisions will be made for our local public schools. So we will wait until we hear more. In the meantime, First Communions are scheduled for the Saturdays in September and Confirmation will be on Columbus Day, Monday, Oct. 12th.
I am also meeting with members of our CYO Board to determine how to best resume CYO activities. I would very much like to see our young people get back to playing games again – soon, but safely.
Masks in Church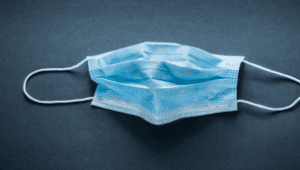 I have been asked by a number of parishioners to remind everyone that masks are required while in church. Masks are to be worn over the nose and mouth throughout your time in church. All experts acknowledge the benefit of mask-wearing. Not doing so evokes stress in other church-goers. So in charity, please be attentive to those around you and wear a mask while in church. I need to do better at this myself.
Please know that we are having two Masses outside in Memorial Park each weekend – at 4 pm on Saturday and 10:30 am on Sunday. This is to accommodate people who want to return to Mass, yet would prefer not to go inside the confined church building.
Praised be the name of Jesus Christ now and forever!
Fr. Tom